We recognize that all our patients are unique and deserve to receive orthodontic care that reflects their individual needs. Our experienced and talented team is committed to working with you and your family to create a comfortable, stress-free, and rewarding orthodontic experience every time you visit our practice.
We are pleased to welcome you and your family, and we look forward to working with you.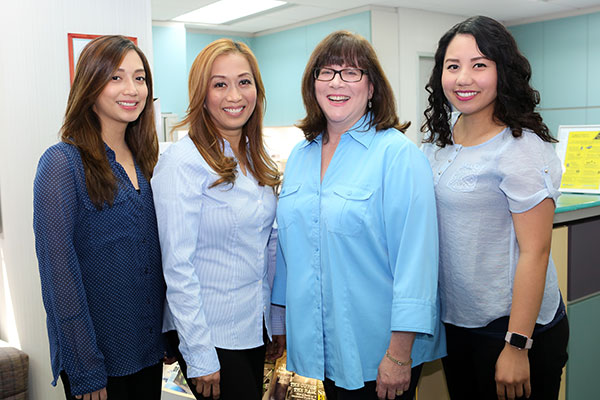 ---
Sherri
Office Manager / Treatment Coordinator
I have the pleasure of welcoming our patients and their families to the office. It is always my goal to make sure they are comfortable and at ease, especially the kids. Regardless of what I'm doing, whether scheduling appointments, explaining patient care, billing insurance companies, or arranging financial agreements and payments, I'm always wearing a smile! Our doctors have a lot to do with that, too. They both have such tremendous hearts, and when I say they treat everyone here like family, I mean it!
I have been married for 31 years. I have three grown children who still love to spend time with me. They are wonderful adults and I am very proud of the people they have become. I have two rescue dogs that take up a lot of my time, but I do find the time to do needlepoint, bake, and take walks.
Babes
Clinic Manager
I earned my DMD from the University of the East College of Dentistry in Manila, Philippines before moving to the United States. Once I arrived, I earned my RDA and have been a part of Schacter Orthodontics ever since! I love the technical aspects of working on patients and doing lab work, but I also find a lot of joy in the personal relationships I've made. I love the teamwork and support system in our office. We all work hard to ensure our patients are happy and receive excellent care.
I made the US my home in 2000 and have helped my family emigrate here over the ensuing decade. I have three grownup children who all work in the healthcare field. On the weekends, I enjoy volunteering at church, being a mom at home, and catching up on some much-needed shuteye!
Flen
Orthodontic Assistant
I received my LVN in 2010 and my associate's degree in 2011. A few years later, I became a part of the Schacter Orthodontics team! My favorite part of my job is meeting new people and learning all about what makes them smile. I'm also the one to update our Instagram feed! Our doctors make me laugh and keep me on my toes, which is great because I like being busy and cheerful!
I live with my family, which includes my brother, two sisters, mom, dad, and grandpa. I like to spend my free time at church volunteering in the choir and playing the organ during services. I love to smile, especially now that Dr. Schacter has straightened my teeth!
Via
Orthodontic Assistant
The most important thing to me is helping patients feel comfortable when they're in our office. I love getting to know them and seeing how much they change when their smiles change as well. Our patients, as well as all my coworkers, keep me busy giggling all day! Our doctors are also wonderful, kind people who have been a great inspiration to me. In fact, I hope to go back to school to become a dentist one day!
I moved here from the Philippines in 2011 to be with my family. I love dogs and Disneyland, and am an avid reader. In my free time, I volunteer at my church and have made many friends there.
Matisse
Certified Therapy Dog
Please welcome our newest staff member, Matisse, the world's most gentle, non-allergenic, certified therapy labradoodle. He loves being here and wants our patients to feel as happy and comfortable as possible. When you come in, be sure to pet him and he'll be your best friend!